Global Security Exchange (GSX) is one of my favorite times of the year, and I'm so excited that November is finally here.
GSX is the culmination of everything we do at ASIS International. What's more, the event plays a major role in how ASIS gives back to the security profession.
ASIS offers 300+ world-class education sessions, providing our attendees with valuable training on how to confront the latest issues they may be facing.
We convene more than 550 exhibiting companies on our show floor—in a learning lab environment where attendees can get hands-on access to the newest products on the market.
And we offer the profession's best-in-class networking events, where the industry's foremost solutions providers brush shoulders with our profession's brightest minds.
From the Sunday evening Opening Night Celebration at Revel Motor Row and the Monday Awards Reception to Wednesday's President's Reception at Wintrust Arena and various lunch and happy hour exchanges—I can think of no better way to forge new connections and strengthen existing industry relationships than the events offered at GSX.
No discussion of GSX 2019 would be complete without introducing the exciting features that we're debuting this year.
The new GSX Disruption District on the exhibit floor is synonymous with innovation, housing GSX D3 (Drones, Droids, and Defense), future-focused X Learning stages, Innovative Product Award (IPA) winners, and our new Startup Sector and Pitch Competition. These last two items are new in 2019 and spotlight the most exciting ideas that are on the cutting edge of our industry.
The ASIS Foundation's new Sharpshooter Competition also takes place right on the exhibit floor, offering a fun way to take a break and support the Foundation and its mission to make a difference in the security industry through research, scholarships, and grants.
Speaking of Foundation research, Foundation Board of Trustees President Cy Oatridge, CPP, is very excited to release the new Security Convergence Study at GSX. This groundbreaking report will provide hard data depicting how organizations around the globe are integrating their physical and cybersecurity efforts.
The show floor also houses Career HQ, where professionals of all ages can access résumé reviews, career coaching, and more. Everything about GSX is designed to prepare our profession to tackle the challenges of tomorrow.
I also want to highlight our Security Cares program, which gives community facility managers free access to dozens of GSX education sessions, so that our ASIS community will leave Chicago a more secure place than when we arrived.
There are so many more important initiatives that ASIS leaders are advancing at GSX—from our Professional Certification Board to our Commission on Standards & Guidelines and beyond. I won't list them all here, for brevity's sake. But please know that the amount of careful work that went into planning this event from your Board of Directors and ASIS headquarters team cannot be overstated.
If you're reading this while attending GSX, I'd like to thank you for your support of this seminal event. I hope you make the most of the ultimate professional development event our profession can offer.
I hope to see you in Atlanta next September for GSX 2020.
Preferred CPE Provider Progra​​m
Continuing education is an important obligation for maintaining an ASIS certification. With the launch of the new ASIS Preferred CPE Provider Program this month, earning continuing professional education (CPE) credits for your recertification is easier than ever before.
Through this program, ASIS is partnering with organizations that offer security- or management-focused education courses and seminars to pre-approve these activities for CPE credit. For individuals seeking CPEs toward their recertification, this program offers peace of mind by removing the guesswork about whether an activity will be approved toward recertification requirements. The list of preferred CPE providers is available within the online ASIS Certification Portal.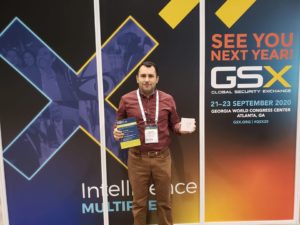 The Preferred CPE Provider Program affirms ASIS International's continued commitment to lifelong learning—a critical component of its certification program. ASIS certifications are globally recognized and considered a standard of excellence for security management professionals.
All four designations—the Certified Protection Professional (CPP®), Professional Certified Investigator (PCI®), Physical Security Professional (PSP®), and Associate Protection Professional (APP)—must be recertified every three years.
Organizations whose continuing professional development activities align with the bodies of knowledge for the APP, CPP, PCI, and/or PSP can apply for Preferred CPE Provider status. If your organization's offerings align with any of ASIS's certifications' domains, consider becoming a trusted resource for the ASIS community.
Private Investigator Pri Eyes services areas in All of North Carolina. Feet are on the ground 24/7 in city's of  Charlotte North Carolina, Raleigh North Carolina, Ashville North Carolina,  and Greensboro North Carolina. Gary stays up to date on all of the latest technology and Private investigation strategies that keep his team of experts on the cutting edge of our industry in areas of private investigations such as but not limited to
Child Custody
Infidelity
Surveillance
Private Investigator
Unfaithful Spouse Investigations
Cheating Spouse Investigator
Adultery Investigations
Domestic Investigations
Child Custody Investigator
Hidden Camera Investigations
Employee Screening
Missing Persons Investigations
Private Detective
Licensed Investigator
Evidence Investigations
Video Surveillance Investigations
Infidelity Investigations
Fraud Investigations
Covert Surveillance Investigations
Background checks
Child Endangerment Investigations
Computer Forensics Investigations
Financial Investigations
Workers Comp Investigations
Technical Surveillance