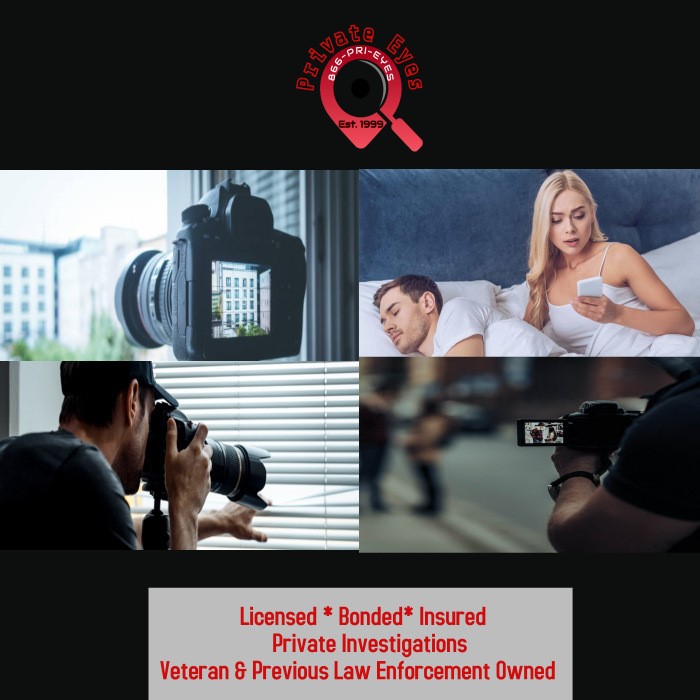 Private Investigator in Fayetteville North Carolina
Searching for a Private Investigator in Fayetville North Carolina? Licensed Private investigators of Private Eyes Inc in Fayetteville North Carolina are a team of specialists with military and law enforcement experience. We work with individuals, corporations and attorneys. If you're looking for a "Professional Investigator," don't hire a company that does PI work part-time. Hire a LICENSED, BONDED, INSURED, and PROFESSIONAL company with a team of dedicated professionals that possess decades of law enforcement experience in: Civil & Criminal investigations; Interview & Interrogations; Mobile & Static Surveillance; and excellent written/oral communication. Each investigator has a proven track record and consistently strives to exceed client expectations delivering results. The Private Eyes, Inc. team covers the entire state of North Carolina and more. 
Private Eyes Inc. proudly serves private citizens, attorneys, and businesses. The Private Eyes, Inc. team of Licensed Investigators are ready to assist you today, and we are available to get started on your case now in North Carolina, Virginia, Florida, & many other states.

NC Private Investigator License #2664. Reciprocal with California, Florida, Georgia, Louisiana, South Carolina, Tennessee and Virginia (Issued by NCPPSB and NCDPS)