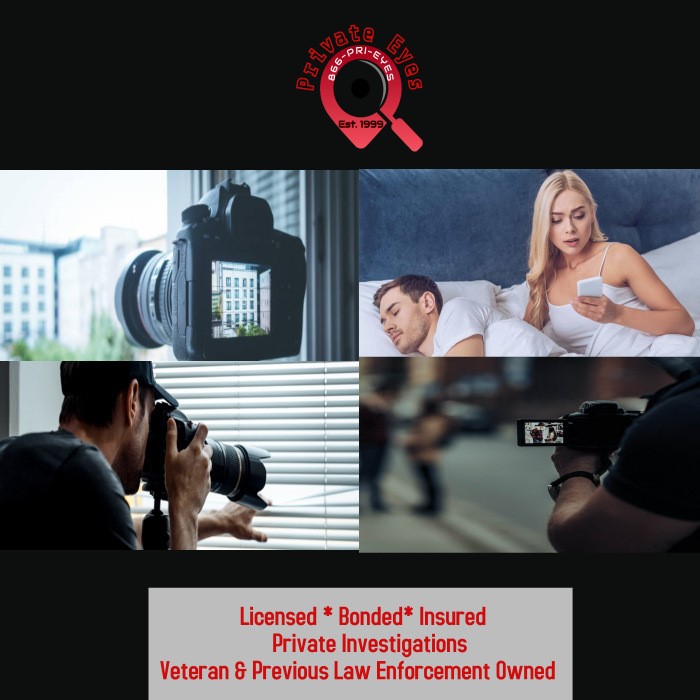 Jacksonville Florida Private Investigator
Jacksonville Florida Private Investigators provide many services for all types of businesses, private citizens, and law firms. We have years of experience and are highly skilled at gathering the information and facts necessary about legal, financial, and personal matters. Our Private Investigation officers are ready to assist you in Jacksonville, Florida and surrounding areas covering the entire state of Florida.
Prior Law Enforcement Officer & Marine Military Veteran Gary Pastor established Private Eyes Inc. in the year of 1999.  
Our Private Investigations team located in Jacksonville Florida are licensed, seasoned, experienced, highly qualified, and on call for you 24/7. Our private investigation officers are ready to start finding the answers for your case now in Jacksonville, Florida are located across the state Florida, and many other states.
Get a FREE Confidential Consultation with a Specialist Now by calling 866-774-3937 (PRI-EYES) Licensed Private Investigation Firm Private Eyes Inc. NC License number #2664, Issued by NCPPSB and NCDPS. With Reciprocity in many states such as Louisiana, Georgia, California, North Carolina, South Carolina, Tennessee, and Virginia.  
Private Detectives & Private Investigators who care about you in Jacksonville, Florida
have years of experience as prior Law Enforcement, Military & Special Ops Training Veterans, are able to serve you anywhere in the entire state of Florida for Private Investigation Services. 
Investigators located in Jacksonville, Tampa, and the state of Florida.  
We are known for going above and beyond what it takes to get the best results for our client's and do whatever we can to surpass expectations. We consistently deliver results and carry out our assignments with a standard of excellence.
You want a team of highly qualified professional private investigators who are experienced, dedicated, and above all, you want to hire an investigator who is licensed! We are not limited to providing private investigation services to attorneys, private citizens, and businesses. Services for Private Investigation are broad and may include capturing evidence through video and photographic methods, interviewing witnesses, stake out surveillance, researching on location, and even on computers in the office. 
Search and Scan an overview of our many services click- HERE  
No 2 cases are identical. We understand every case must be structured according to each particular need.  
Our team is highly qualified to get the results you are looking for. Each officer has experience, connections, resources, and we use the most recent state of the art technology and equipment to deliver the Best Possible Results for Each and Every Case. 
SOME OF OUR MANY PRIVATE INVESTIGATOR SERVICES
Private Eyes Inc. is your trusted firm possessing years of proven success- You need a team of dedicated experts! Florida Private Investigators on standby in Jacksonville, Tampa and surrounding areas to cover the state of Florida.
Speak with a Specialist Now 866-774-3937 (PRI-EYES) Confidential & FREE Consultation