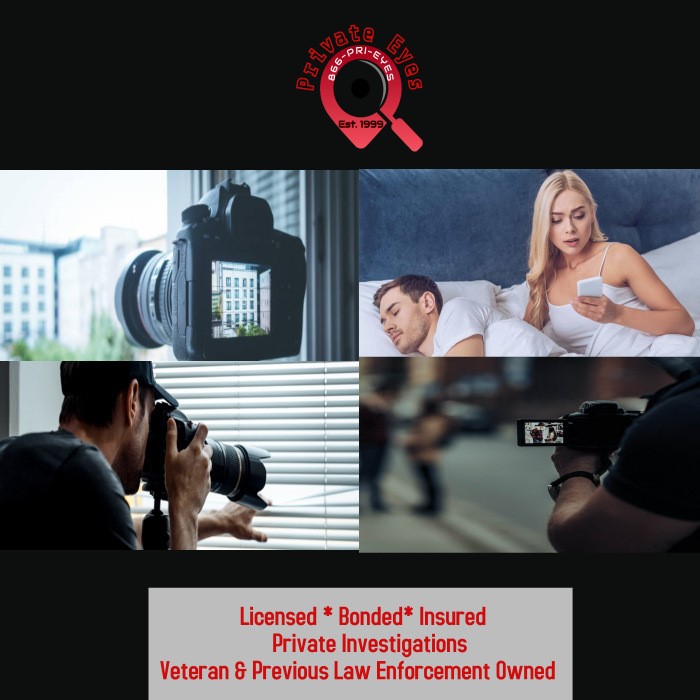 Florida Private Investigator
Our highly qualified team of Private Investigators across the state of Florida assist in serving private citizens, attorneys, and businesses in many areas of Florida and needs of investigation services. We gather information based on truth and fact from each assigned case for personal matters, legal, and financial. Our Private Investigation Services are conducted by experienced prior law enforcement, military veterans, or special training officers across the entire state of Florida, and many other states.
Military Veteran Owner Gary Pastor is Prior Law Enforcement & founded Private Eyes Inc. in 1999. 
The professional team of Licensed Private Detectives & Investigators of The Private Eyes, Inc. are available to assist you today, we are ready to get started on your case now. All Initial Consultations are FREE and always confidential 866-774-3937 (PRI-EYES)
Issued by NCPPSB and NCDPS NC Private Investigator License Number 2664
Reciprocity in the following states of Georgia, California, Louisiana, North Carolina, Tennessee, Virginia, and South Carolina.
Services in Florida for Private Investigation are conducted for you by an investigator who has a proven track record, and consistently strives to exceed client expectations while delivering results in a discrete and confidential manner. 
Our experienced team is licensed and dedicated. The Investigators at Private Eyes Inc. are Professional Florida private investigators who work in different areas of the state, provide investigation services to private citizens, attorneys, and businesses depending on the scope of the assignment or case. Many of our private investigation services can include time out in the field conducting interviews and performing surveillance research, office work, filing court papers, and more. Our Services Page will provide more information on the many investigation services we provide click HERE
No 2 cases are alike! We listen to you, each case is specifically tailored to meet your needs.
Our team of experts have the experience and resources to ensure a successful outcome of your case. We are knowledgeable on all up-to-date technology and use state of the art equipment.
SOME OF OUR MANY PRIVATE INVESTIGATOR SERVICES
Don't rely on just anyone to get the answers and proof you need. Call on the team of experts at Private Eyes Inc. We have decades of experience and track record of success to prove it! Speak with an expert now for a FREE Confidential Consultation 866-774-3937 (PRI-EYES)  
Florida Private Investigators on standby in Tampa, Jacksonville and surrounding areas.